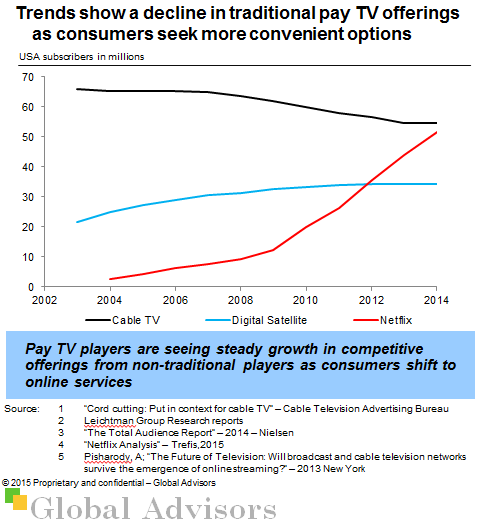 Cable TV has been declining steadily since 2002.
Digital Satellite Services increased since 2002 but has seen no growth since 2012.
Pay TV subscribers are switching to streaming TV services as broadband adoption grows.

Advances in  compression technology and 4G have made video streaming online much faster.
Viewers are increasingly watching video content on services such as Netflix, Hulu and YouTube.

The rapid growth of Netflix post 2009 can be explained by the rapid increase in subscribers to its online streaming service. Netflix entered the online streaming space in 2007 and completely changed the way in which people watch television. The exponential growth in online streaming shows that the medium is growing as a means of watching television.
By 2010, Netflix's streaming business had grown so quickly that within months the company had become the biggest source of Internet traffic in North America in the evening.